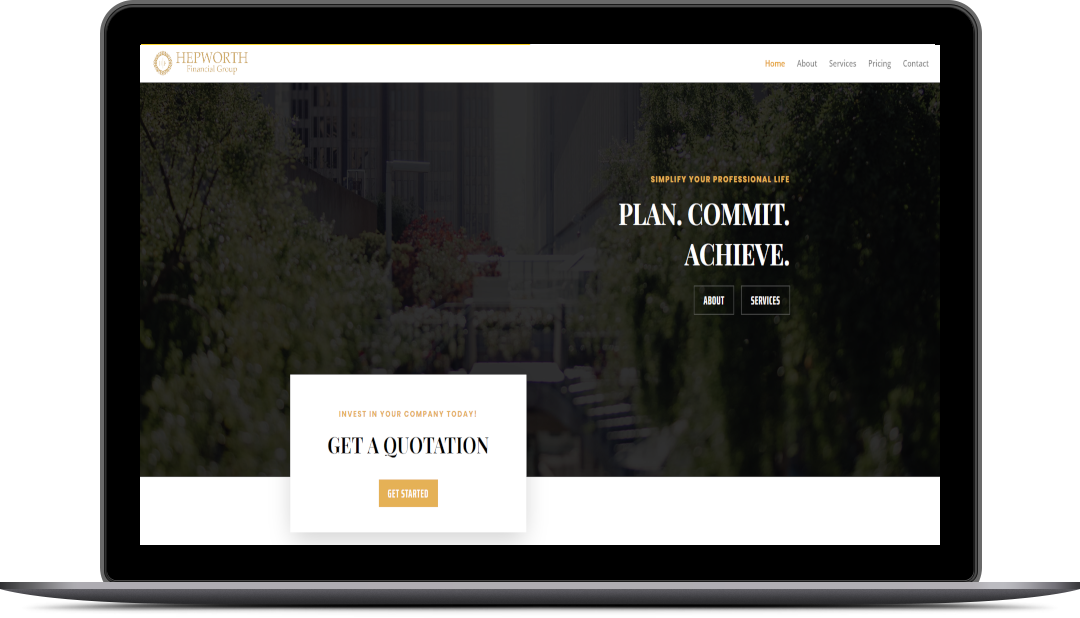 The Challenge:
Hepworth Financial Group, in Rexburg, Idaho offers unique subscription solutions to businesses to take care of their financial needs such as payroll, bookkeeping and the like.  Hepworth knew how important a great website would be to promoting their new business, so they set off to build one.  Even with better-than-average technical know-how, and several months put into the site,  they decided that their DIY theme-based WordPress site was too much to handle.  They set out to find a professional who could come along side them providing the expertise they needed and the ability to push the site to launch.
When we met with Hepworth, they were not sure what exactly they wanted, did they want an organization that could take over their WordPress website project totally or give them the training and support they needed to finish up the site themselves? After meeting and talking through their goals, Hepworth decided it would cost less money, stress, and overwhelm to have the site done for them. Although they didn't need a robust web presence starting out, they did need ensure that when launched their website represented their brand well, and functioned as it should while keeping maintenance super easy.
The Process:
After setting up a timeline and plan that covered all the basis as well as providing a list of deliverables, Fyrefly got to work.  The first step was to outline the content that needed to be included on the new site so that it would interest potential clients as well as generate leads. After content, Fyrefly presented two separate WordPress design concepts for Hepworth to choose from and then developing the chosen concept into a full site that incorporated the clients branding, messaging, and color palette.  Once design was in underway, we began the process of building a WordPress development site that would allow Hepworth's potential clients to still access their website while the new build was still in the works. Using new-technology, as part of the development, we put a spiffy drag-and-drop interface onto the website that makes editing content a snap. Hepworth can edit all the content on their website including fonts and colors without ever needing to look at a piece of code.  With development done, it was time to launch and we were off with a bang.
The Solution
With the work for the website completed, we turned on the lights.  The result is a well-designed, organized, pleasing design that holds enough power on the back end to support Hepworth's growth.  Going forward, Fyrefly will be right by their side supporting and training them as they keep their technology up to date.  With a structurally sound, technically stable and up-to-date look, Hepworth is ready to jump into promoting their business online in full force using SEO, social media and email marketing methods.  The sky is the limit!
Let Us Help You Grow
We've been helping motivated people, groups, businesses, and organizations to clarify their desired direction, assembling intelligent research into solid plans that lead the way, producing the visual concepts, design, and materials (logos, websites, collateral) needed to arrive. Along the way, we stand by ready to help with implementation and management needs or provide you with whatever training you may need to reach your destination.